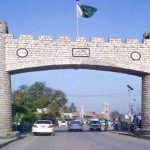 LAHORE: A Lahore banking court on Saturday extended the interim bail of Jahangir Tareen and his son, Ali Tareen, till April 17 in the sugar scandal case and sought arguments from the Federal Investigation Agency (FIA) ​​and other parties on the jurisdiction.
The district and sessions court also extended the interim bail of both till April 22.
Banking Court Judge Ameer Muhammad Choudhry heard Jahangir and his son's petition for extension in the interim bail wherein the FIA prosecutor prayed that "this court does not have the jurisdiction in Tareen's cases".
He further prayed that bank accounts of employees of Tareen's sugar mills were used for money laundering.
The counsel representing Tareen said that the defendant would present some more documents to the investigating officer next week whereas Jahangir Tareen and Ali Tareen had joined the investigation as well.
The Tareens were accompanied by a large number of lawmakers and others on the occasion.
While speaking to the media, Jahangir said that the inquiry against him was not transparent and therefore an impartial committee should be formed for the investigation.
Earlier on April 4, the estranged PTI leader and his son were granted bail by the Lahore district and sessions court in three different FIRs registered against them by the FIA.
The first FIR was registered under sections 406 (criminal breach of trust), 420 (cheating of public shareholders) while the second under 109 of the Pakistan Penal Code (PPC), read with sections 3/4 of the Anti-Money Laundering Act.
It was stated in the third FIR that Tareen fraudulently misappropriated the money of shareholders after his company (JDW group) transferred Rs3.14 billion to an associated private company identified as Farooqi Pulp Private Limited (FPML). The FIR also stated that the private company is owned by his sons and close relatives.