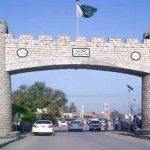 ISLAMABAD: Prime Minister Shahid Khaqan Abbasi will visit Afghanistan soon as part of continuous engagement for peace in that country.
This was announced by Foreign Office Spokesperson, Dr Muhammad Faisal at his weekly news briefing in Islamabad on Thursday.
He said Afghan President Ashraf Ghani invited the Prime Minister during National Security Adviser Nasser Khan Janjua`s recent visit to Afghanistan.
The spokesperson said US Deputy Assistant Secretary of State Alice Wells is in Islamabad for talks with senior officials as part of the positive engagement between the two countries for finding out common grounds on various issues including countering terrorism, FATF and Afghan problem.
He said the two sides have been holding high level talks since US President Donald Trump`s south Asia Policy.
Dr Muhammad Faisal said Pakistan has been consistently emphasizing on an Afghan-led Afghan-owned dialogue process for peace in that country.
To a question, he said Pakistan has been expressing serious concerns over the presence of terrorist sanctuaries in Afghanistan along the Pakistani border.
He said the issue has been raised with the Afghan Government as well as the Resolute Support Mission there.
To a question about the presence of Daesh in the region, the Spokesperson said Daesh's concentration along the Afghan borders with Central Asian Republics, Iran and other countries alarms Pakistan due to its implications not only for Afghanistan, but the whole region and its security.