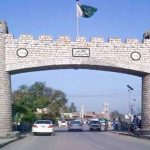 PESHAWAR: All Fata health employees on Wednesday staged a protest demonstration outside the Khyber Pakhtunkhwa assembly against the non-payment of their salaries of the last 11 months.
The protesters said that they are serving without salaries for last 11 months. There is starvation in their houses as their kitchens have nothing to cook, and unable continue their children's education.
They have asked the provincial government and health department to immediately released their salaries and permanent statues of the project employees.