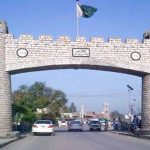 KARACHI: The MQM chief Altaf Husssain has decided to go on hunger strike till death against what he called injustice with Urdu speakers in Karachi.
According to reports, he said that he had promised not to bow down, but sacrifice his life for the rights of the Mohajirs and would stage hunger strike till death. He said that he could not compromise on the rights of the poor and mohajirs. He said that he struggled for the rights of the mohajirs for his whole life.
He said that all arrangements have been made for hunger strike, adding that he would go on strike after taking permission from the local authorities.
Earlier, in Altaf Hussain, demanded of the government to admit immediately its "tortured" leader Qamar Mansoor to hospital "to save his life".
Altaf claimed that Qamar has been subjected to "brutal torture" after being taken into custody by the Rangers from Khursheed Begum Secretariat on the eve of Eidul Fitr.
He asked the Sindh Chief Minister Syed Qaim Ali Shah and Sindh Home Minister Anwer Sial to immediately admit the MQM leader to hospital to save his life.