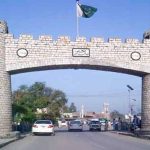 LAHORE: British-Pakistani boxer Amir Khan has landed in Lahore to take part in the closing ceremony of the Inter-Division Punjab Open Boxing Championship.
Khan along with his wife Faryal Makhdoom will be chief guests at the closing ceremony, where they will be handing out prizes to the winners.
While addressing a press conference at National Hockey Stadium on Friday, the Punjab sports board chairman Jahangir Khanzada had announced that Khan would be attending the closing ceremony of the tournament which would be a great source of encouragement for young boxers.
Khan was received at the airport by the Khanzada and director of sports Anees Sheikh.
The closing ceremony will take place tonight at the Nishtar Park Sports Complex Gymnasium Hall.
According to the boxer he had come to Pakistan to work on the development of boxing in the country.
Earlier Khan while talking to the media in London had said that Pakistan is a haven for investors and that he will be establishing many training academies for boxing in Gwadar and some other cities in Pakistan.
He had added he will be working with leading real estate developer CPIC for the purpose.