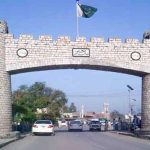 LAHORE: Amjad Javed Saleemi who had been appointed as the inspector general of police (IGP) for Punjab last week took charge of his post on Monday.
He was presented a guard of honour on his arrival at the IG office in Lahore.
Saleemi's appointment was announced by the Establishment Division last week but he could not assume charge as the Election Commission of Pakistan suspended the notification since it came days before Sunday's by-polls. According to the ECP rules, government is not allowed to make new appointments or transfer any government official before elections.
Saleemi, who replaced Mohammad Tahir, is Punjab's second IGP in two months. He was previously serving as the commandant of National Police Academy.
Talking to the media after assuming charge, Saleemi said that he meant to work with senior police officers, including Nasir Durrani — formerly head of police reforms commission — to introduce reforms in Punjab police.
"He (Durrani) has resigned from the commission but he is still a senior police officer," said the police chief. "We will ask him for advice whenever it is needed."
The sudden appointment of Saleemi as Punjab's police chief stirred controversy which was fueled by Durrani's immediate resignation from his position. Police officers close to him had told Dawn that Durrani appeared upset in the wake of the news about Tahir's departure from IG's office.
Tahir's removal is said to have come about after a growing realisation in the Pakistan Tehreek-i-Insaf circles that he was unable to carry out the task required of him by the rulers during the tone-setting period of the Imran government.