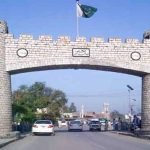 SWABI: Central president of Awami National Party (ANP) Asfandyar Wali Khan has said that the enemy wants to sabotage elections in the country, adding that despite bomb blasts, the ANP would continue election campaign.
He was addressing an election rally here on Tuesday. He said that the ANP was the only target in 2013, while in 2018 except one party, all parties were the target. He said that despite bomb blasts, the ANP would continue the election campaign. He asked the party workers to continue electioneering, even if he was also attack.
The ANP president said that the caretaker government was responsible for ensuring security during the election campaign. He said that only PTI was allowed to hold rallies.
Asfandyar strongly condemned former chief minister Pervez Khattak for using foul language against PPP and said that Khattak was also part of the PPP.
He said that he was happy that Nawaz Sharif was also using the name of Khyber Pakhtunkhwa. He said that Nawaz Sharif strong opponent of the renaming of the province Khyber Pakhtunkhwa.