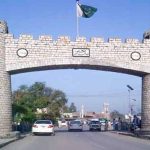 PESHAWAR: A student of Army Public School has succumbed to his wounds on Tuesday, three days before Pakistan marks the second anniversary of the 2014 massacre.
At least 150 people mostly students and staff members were killed when Taliban gunmen disguised as troops attacked their military-run school in Peshawar on December 16, 2014.
The deadly attack shocked the entire nation, prompting the government to launch a national action plan (NAP) to root out the scourge of terrorism and extremism once and for all.
The incident is described as turning point in Pakistan's long war against terrorism.
Irshad Hussain, who was among the injured students, died on Tuesday after being under treatment in a Rawalpindi hospital for two years.
The deceased had been shot in neck and back, leading to critical injuries.
According to family, Irshad Hussain was suffering from mental trauma caused by the attack.