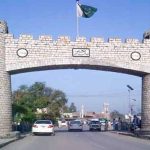 ISLAMABAD: Secretariat police station released PTI leaders Imran Ismail and Arif Alvi on the direction of federal Interior Minister Nisar Ali Khan. The two were arrested a short while ago.
According to details Imran Ismail and Arif Alvi had staged a sit-in at Covering Chown here after not being allowed by Islamabad police to proceed to Banigala.
Nisar ordered the two PTI leaders immediately after the news of their arrest was telecast after which the police released the two leaders.