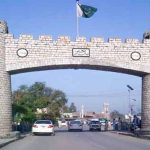 GUJRANWALA: As a part of his farewell visits, Chief of Army Staff (COAS) General Raheel Sharif arrived in Gujranwala Garrison, where he addressed officers and troops of Mangla and Gujranwala Corps, ISPR said.
Lt Gen Umer Farooq Durrani, Commander 1 Corps, Lt Gen Ikram ul Haque, Commander 30 Corps received COAS at the venue.
In his farewell address, COAS paid rich tribute to the professionalism, dedication and sacrifices of troops while defending the motherland at Line of Control and Working Boundary, the ISPR statement said.
The Army Chief also appreciated the Mangla Corps for successfully undertaking the task of capacity building and imparting anti-terrorists training to troops of the three armed services and law enforcement agencies.
Earlier, General Raheel Sharif visited Lahore on his farewell visit where he addressed a large gathering of soldiers of Army and Rangers at Lahore Garrison.
The Army Chief in his address said that accomplishment of peace and stability was no ordinary task. He added that the nation's sacrifices and joint resolve helped the country in offsetting all odds against it. "It has been a source of immense pleasure to lead the best Army in the world," he said.
"It was not an easy task to bring peace and stability in country", said Gen Raheel.
He added that no one could malign Pakistan. "Operation Zarb-e-Azb has left Pakistan stronger than before," he said.
COAS General Raheel Sharif will retire on November 29 and the new COAS, whenever the name is finalised, will take charge on the same day.
Defence Minister Khawaja Asif said General Raheel Sharif will send a list of senior-most generals to Prime Minister Nawaz Sharif. The Prime Minister, after consulting with General Raheel Sharif, will choose the new COAS.
Chief of General Staff Lt Gen Zubair Hayat currently tops the senior-most list of Pakistan Army, followed by Corps Commander Multan Lt Gen Ishfaq Nadeem Ahmad, Corps Commander Bahawalpur Lt Gen Javed Iqbal Ramday and Inspector General of Training and Evaluation Lt Gen Qamar Javed Bajwa, in descending order.
COAS General Raheel Sharif had said at the beginning of 2016 that he would retire from service when his three-year term ends, ending weeks of speculation that the tenure of the Army Chief was likely to be extended.
DG ISPR Lt-Gen Asim Bajwa had said at the time that rumours of an extension in the Army Chief's tenure were baseless.
"Pakistan Army is a great institution. I don't believe in extension and will retire on the due date," the DG ISPR had quoted General Raheel Sharif as saying.
"Efforts to [root] out terrorism will continue with full vigor and resolve. Pakistan's national interest is supreme and will be safe guarded at all costs," General Raheel Sharif had said.
General Raheel Sharif has been instrumental in leading Pakistan's fight against extremism, militancy and terrorism in the form of Operation Zarb-e-Azb, which was launched after a deadly terrorist attack on Karachi's Jinnah International airport and the failure of peace talks between the government and Tehreek-i-Taliban Pakistan (TTP) negotiators. The operation was further intensified after the deadly Taliban attack on Army Public School in Peshawar on December 16, 2014, in which more than 140 people including 132 children were martyred.