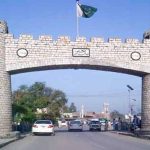 ISLAMABAD: Army Chief General Syed Asim Munir has met with the Prime Minister Shehbaz Sharif at the Prime Minister House on Thursday and discussed national security situation in the country.
As per details, Army Chief General Asim Munir briefed the premier on the recent terror wave in the country.
The COAs also apprised the premier of the professional preparedness of the Pakistan Army.
The prime minster appreciated the sacrifices and achievements of the army.
He also reposed confidence in the professional preparedness of the troops.
It is pertinent to mention here that the National Security Council (NSC) will meet tomorrow in the chair with Prime Minister Shehbaz Sharif to explore strategies to thrash the threat of terrorism. The meeting will be attended by federal ministers, military brass and representatives from security apparatus.
The development came days after a suicide bombing at the I-10/4 sector of Islamabad that killed a police cop and injured several others.
Following an increase in the terror attacks in the country, Islamabad has been on high alert and security arrangements have been tightened.