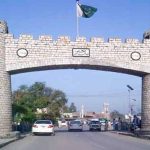 RAWALPINDI: Pakistan Army has demanded of the Supreme Court (SC) of Pakistan to investigate the remarks of Islamabad High Court's (IHC) Judge Justice Shaukat Aziz Siddiqi against the Inter-Services Intelligence (ISI).
In a press release issued by the Inter-Services Public Relations (ISPR) on Sunday, the army spokesman has said that a judge of the IHC has leveled serious allegations state institutions and ISI.
"An honourable judge of Islamabad High Court of Pakistan has leveled serious allegations against state institutions including honourbale judiciary and premier state intelligence agency", the press released read.
It requested the top court to initiate probe into the allegations and take actions accordingly.
The press release added, "In order to safeguard the sanctity and credibility of the state institutions, Honourable Supreme Court of Pakistan has been requested to initiate appropriate process to ascertain the veracity of the allegations and take actions accordingly".