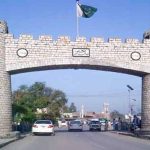 SAIDU SHARIF: Pakistan Army on Monday handed administrative powers, including security, to the district administration of Swat.
The military was given powers to restore peace to the district under Article 254 of the Constitution in 2009 after the writ of the state was challenged by the Tehreek-e-Taliban Swat chief Mulla Fazlullah.
A ceremony was held at the Saidu Sharif airport, which was attended by Khyber Pakhtunkhwa Chief Minister Mehmood Khan, Peshawar Corps Commander Lt-Gen Nazeer Butt, provincial ministers and local elected representatives.
On the occasion, Brig Naseem Anwar handed over the civilian powers to Commissioner of Malakand Division, Zaheer-ul-Islam. The security powers are now the responsibility of Saidu Sharif police range officer.
Because of the deteriorating law and order situation in 2009, 3.5 million people fled their homes, forcing the then Pakistan Peoples Party (PPP) government to order a military operation in Swat.
The military then launched the operation Rah-e-Nijat. The local population fully supported the operation in which 300 military soldiers, 150 paramilitary FC men and 200 policemen were martyred.
"The people of Swat stood shoulder to shoulder with the military to defeat terrorists," General Office Commanding Maj-Gen Khalid Saeed said. "After the restoration of peace, the army took an active part in rehabilitation works."
Speaking at the ceremony, Lt- Gen But said that peace has returned to Swat and the journey to progress continues. "From now on, civil administration and police will be responsible for security," he added.
The corps commander said that the Pakistan Army remained vigilant in the wake of threats. "Terrorists are still trying to launch attacks from across the border," he said, adding that the border was being fortified with fencing.