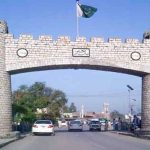 PESHAWAR: Pakistan Army has ordered Kurram Agency people to voluntarily surrender every kind of arms to government in 45 days and warned of strict actions against the violators of the order.
Military Commander Brigadier Malak Amir Muhammad Khan and Kurram Agency Political Agent has said that all the tribal areas would be cleansed of all kind of weapons adding that obedience of laws is the collective responsibility of every citizen.
Brigadier Malak Amir Muhammad Khan said that tribal people would be compelled to voluntarily hand over all weapons to the government. He said that the government is giving 45 days deadline to tribal people to surrender weapons. He said that maintaining of law and order situation is the responsibility of the government adding that terrorists would not be allowed to disturb peace of the area.
"The political agent appreciated support of Turi tribe and assured its elders that all seized weapons would be returned to them," he said.
Tribesmen say disarming them would make them vulnerable to militant attacks.