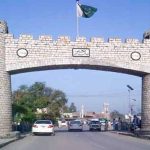 DIAMER: Pakistan Army on Thursday has rescued 13 people who were trapped in Bahsal area of Diamer due to snowfall.
The rescued persons included seven children and six women, all of whom were living in Bahsal area of Diamer. They had gone up to the area, along with their cattle, for summer but were trapped due to unexpected snowfall.
A day earlier, 12 laborers working in Bahsal were trapped but found their way out.
Roads in other parts of Gilgit Baltistan remained covered in thick layers of snow and hence closed for commute on Thursday.
Meanwhile, the tourists and wildlife officials stranded in Deosai were also rescued by the army personnel and would be flown to Skardu, situated at a distance of 40 kilometres.
On the other hand, work was under way to rescue tourists stranded in Naran.
According to Rescue 1122 Spokesperson Bilal Faizi, they have sent the teams along with ambulances and paramedics for the stranded tourists.