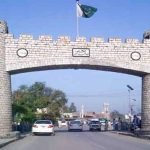 PESHAWAR: Central president of Awami National Party (ANP) Asfandyar Wali Khan Monday renewed demand for merger of FATA with Khyber Pakhtunkhwa before upcoming general elections.
He was addressing a function of the ANP here. He said that the division should be ended and FATA should be merged with the Khyber Pakhtunkhwa immediately. He said that the FATA should be given representation in the provincial assembly in next general elections.
He said that the British era law was still being used against the tribesmen. He said that the tribesmen should be embraced. He said that funds were not available for construction of roads in FATA.
He claimed that the field is opened for ANP in upcoming general elections, asking the party polling agents not to leave the polling station without receiving official results. He urged the party workers to be ready for general elections.