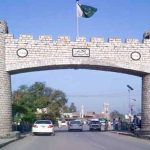 Asif Ali Khan Durrani, a career diplomat with 32 years of experience, has been appointed as a special envoy for Afghanistan.
After his predecessor, Mohammad Sadiq, resigned in March after almost three years in office, Durrani was chosen by Prime Minister Shehbaz Sharif two months later. Sadiq's resignation came after the failure of peace negotiations in Kabul with the Tehreek-e-Taliban Pakistan (TTP), a banned outfit, that was first convened by the Pakistan Tehreek-e-Insaf (PTI) government.
Durrani will directly report to the PM's office after taking office. On Tuesday, Durrani spoke with Minister of State for Foreign Affairs Hina Rabbani Khar.
In order to connect the landlocked Central Asian area with the rest of the globe via Pakistan and Afghanistan, the China-Pakistan Economic Corridor (CPEC) may be expanded into Afghanistan during Durrani's tenure.
When the foreign ministers of Pakistan, China, and Afghanistan met earlier this month in Islamabad for a trilateral discussion, the three countries emphasized the need to find practical solutions for reviving the Afghan economy and the necessity of fostering economic activity there.
The three parties reiterated their commitment to using Afghanistan's potential as a regional connectivity center to the fullest. Reiterating their dedication to advancing trilateral cooperation under the Belt and Road Initiative (BRI) and extending the China-Pakistan Economic Corridor to Afghanistan together.
The importance of Durrani's appointment is further underscored by the fact that the country is still struggling with terrorism, as seen by the rise in assaults on civilians and law enforcement officers, as well as the recent demolition of girls' schools in Khyber Pakhtunkhwa.
During his trip to Pakistan earlier this month, Acting Foreign Minister of Afghanistan Mawlawi Amir Khan Muttaqi urged Islamabad and the TTP, which is believed to be responsible for the majority of assaults in the country, to meet for talks.
Kabul had mediated multiple rounds of negotiations between Islamabad and the TTP, a banned outfit, but those talks broke down last year, and the terrorist organization then began carrying out terrorist attacks.