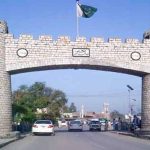 KARACHI: At least 14 people were killed and more than a dozen others injured in a blast that took place at Paracha Chowk in the city's Shershah neigbourhood on Saturday. A search and rescue operation is currently underway and the toll may climb higher.
PTI MNA Alamgir Khan's father is among those to have died in the explosion, PTI-Karachi president MPA Khurram Sher Zaman said. He also said that among the injured, four are in critical condition.
Police said the blast took place in a gas pipeline running through a nullah located in the area, causing immense damage to the building of a private bank which was constructed atop it. Rescue officials arrived at the scene to shift the injured to the Civil Hospital for treatment.
Eyewitnesses on the spot claim that there are many people who are buried underneath the debris of the building. Two excavators have been called to the site to remove the debris and rescue any persons trapped.
A bomb disposal unit (BDU) has arrived at the location of the blast. Police and Rangers officials have cordoned off the area.
The BDU will be able to begin investigating the cause of the blast after police conclude their search operation.
An eyewitness, speaking to Geo News, said that since it is a Saturday today, only nine employees of the bank were reporting for duty.  He said the bank was about to shift to a new place but it was "our bad luck" that the blast took place before the branch could be shifted to the new location.
The eyewitness said that there were a few bank customers who were buried beneath the debris as well.
During the rescue and search operation, a second blast took place when a few electric wires, which were being taken down, collided with a gas line.  No loss of life was reported in the second blast.