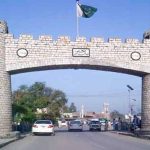 ISLAMABAD: The Islamabad police have produced alleged land grabber Mansha Bomb before special anti-terrorism court (ATC) on Tuesday. He will be handed over to Punjab Police on grant of transit remand.
ATC Judge Syed Kausar Abbas Zaidi heard the case. The Islamabad police shifted Mansha from the Secretariat Police to the court s premises amid tight security.
Meanwhile, Mansha requested the court to wait for his legal counsel. The Judge allowed the request. Mansha also told the judge that he feared being killed in police custody.
After granting a one-day transit bail to the accused, the court ordered to produce Mansha before a relevant court in Lahore on October 17 (tomorrow).
It is pertinent to mention here that alleged landgrabber Mansha Bomb on Monday, had surrendered before the Supreme Court.
He arrived at the Supreme Court and presented himself for arrest claiming the he was innocent and that he has not grabbed any land illegally and that all his land is inherited from father. He had said that the cases against him were politically motivated.
On October 4, an anti-terrorism court (ATC) had issued arrest warrants of Mansha Bomb and his three sons – Tariq Mansha, Faisal Mansha and Asim Mansha in the case.
Moreover, there are 70 other different cases registered against Mansha and his sons, for grabbing land illegally.