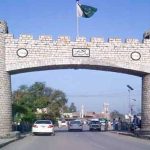 A Lahore Anti-Terrorism Court (ATC) on Tuesday rejected the interim bail pleas of Pakistan Tehreek-e-Insaf (PTI) leaders Farrukh Habib and Asad Umar in a case related to vandalism at the Federal Judicial Complex (FJC) following former premier Imran Khan appearance n the Toshakhana case.
PTI stalwarts Dr Yasmin Rashid, Mian Aslam Iqbal, and Zubair Khan Niazi appeared before the court. During the hearing, the court asked the police about the investigation's progress. Upon which the police replied that the accused had not joined the probe process.
While PTI leaders' lawyer contended that the court that JIT had been formed to initiate the investigation so, that's why his clients had not joined the police's investigation process. The court replied that the JIT had yet to be constituted and directed PTI leaders to join the investigation process.
While the ATC, due to non-appearance in court, rejected the interim bail pleas of Asad Umar and Farrukh Habib. The court extended the interim bail of Yasmin Rashid, Mian Aslam, and Zubair Niazi until April 7.
The court also quashed a request filed by the counsel for Asad Umar to exempt the PTI leader from appearing in court. The Shadman police had booked the PTI leaders for vandalism, arson, and committing violence.