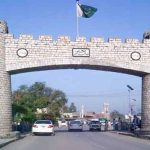 ISLAMABAD: For the first time in the history of Pakistan media industry Avt Channels (Khyber News, AVT Khyber, Pashto-1, Kay2 TV) have planned extensive special transmission, news coverage and analysis to mark the 51st Pakistan Defense Day and highlight the vigilant of our armed forces to foil the nefarious designs of enemies.
The AVT Channels special transmission on the occasion of Pakistan Defense Day on September 6 are aimed to pay homage to valiant personnel of armed forces who dauntlessly repulsed aggression by the enemy.
The transmissions are comprised of excerpts from speeches of Quaid-i-Azam Mohammad Ali Jinnah, messages by President, Prime Minister, and Services Chiefs, milli and war songs like Yeh Watan Tumhara Hey, Aey Watan Ke Sajeeley Jawano, and eye-witness account of change of guard on tomb of Quaid-i-Azam and Dr Allama Muhammad Iqbal.
More especially AVT Channels broadcasted Pakistan National Anthem by diplomats of various countries. A beautiful war song by Moeez Ali 'Aye Rahe Haq Ke Shaheedo' was of special interest for the audience.
Special programmes to pay homage to heroes of September 1965 War, impression of the family members of 1965 war, impressions of relatives of martyrs of Zarb-e Azb, discussion programmes, and milli and war songs will be the hall mark of day long transmission.
Pakistan Defence Day is being observed today with renewed pledge to defend the motherland against all threats.
It was on 6th of September in 1965 that the Indian forces crossed international border in the darkness of night and attacked Pakistan but ever vigilant armed forces solidly backed by the nation foiled nefarious designs of the enemy.
The Day dawned with 31-gun salute at the Federal Capital and 21-gun salute at provincial capitals.
After Fajr prayers special prayers were offered for the progress and prosperity of the nation. Fateha and Quran Khawani will also be held for the martyrs.
A Change of Guard ceremony took place at the Mazar of Quaid-e-Azam Muhammad Ali Jinnah in Karachi. A smartly turned out contingent of PAF Academy Risalpur, including six female cadets, took control charge of guards' responsibility.
In Lahore, a smartly turned out contingent of Rangers presented guard of honour at the mausoleum of Allama Iqbal.