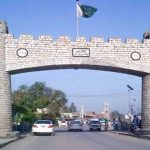 RAWALPINDI: Hearing on customs petition to register a case against Ayyan Ali under the provisions of money laundering was adjourned due to lack of preparation of defendant's lawyer.
According to details, the hearing was conducted by special judge cutoms Rana Aftab Ahmed.
Ayyan's lawyer Sardar Latif Khosa did not appeared before the court. Instead, Khurram Latif Khosa presented himself before the judge and requested to submit power of attorney in the case.
The judge remarked that the defense lawyer is already appointed in the case whereas July 6 is also dated on the power of attorney.
Khurram Latif Khosa said that the power of attorney was submitted before in currency smuggling case however now it is being presented on the second petition of customs.
The judge adjourned the hearing till July 13 while mentioning the reason of it as lawyer's lack of preparation.
Moreover, on the next hearing proceedings will also be initiated for Ayyan Ali's indictment.