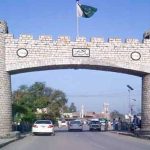 DUBAI: Bakhtawar and Aseefa Bhutto-Zardari recorded a dubsmash video for upcoming Pakistani flick 'Bachaana'.
Yes, apparently the Bhutto sisters are very much appreciative of the local cinema industry. A recent dubsmash of Aseefa Bhutto and Bakhtawar Bhutto seems to be doing the rounds on social media. The dubsmash features both sisters lip syncing to a dialogue from the movie Bachaana, which is set to be released worldwide and in Pakistan on February 26, 2016.
Bachaana stars acclaimed Pakistani actors Mohib Mirza and Sanam Saeed as well as Adeel Hashmi. The trailer of the movie demonstrates that the plot of the film is focused on a Pakistani boy (played by Mohib) and an Indian girl (played by Sanam) who must escape dangerous attacks, so the Indian girl can get across to her country. The plot of the film loosely resembles the story line of last eyar's smash hit Bollywood flick Bajrangi Bhaijaan.