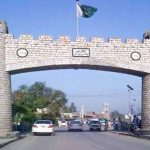 DUBAI: Hammad Siddiqui, prime accused in Baldia factory inferno case, has been arrested in Dubai, local authorities said Friday.
The blaze, which had erupted at Ali Enterprises in Karachi's Baldia Town on September 11, 2012, had devoured lives of over 250 labourers.
Dubai authorities confirmed having arrested Siddiqui Thursday evening. Officials have also approached the Pakistani Consulate in Dubai for Siddiqui's extradition.
The accused is the former in-charge of Muttahida Qaumi Movement (MQM) Karachi Tanzeemi Committee.
An anti-terrorism court (ATC) had last year ordered Pakistani authorities to get the accused arrested through Interpol.
The Ministry of Interior, acting on the court orders, had also issued a red warrant for Siddiqui.
In Dec 2016, another key accused in the Baldia factory fire case, Abdul Rahman alias Bhola, was arrested from Bangkok, Thailand, by the Interpol.
The key suspect behind Pakistan's deadliest industrial fire had confessed that he deliberately set fire to Ali Enterprise on the instructions of MQM leader Hammad Siddiqui.
Bhola had revealed that the MQM leader instructed him to set fire to the factory in the vicinity of Baldia Town Karachi because of non-payment of Rs250 million 'bhatta (protection money)'.
He had claimed the intent behind the arson attack was only to intimidate owners of the factory, and he didn't anticipate that his act would result in the loss of lives.