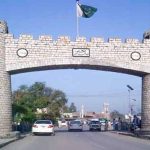 QUETTA: Fed-up with towing the rebellious line of certain separatist Baloch chieftains, an insurgent leader, who has been fighting the state of Pakistan for the last very many years has downed arms.
Haji Wali Kalati, the commander of United Baloch Army (UBA) a splinter group of Harbiyar Marri headed Baloch Liberation Army (BLA), surrendered to the Pakistani authorities here on Thursday.
"I want to advise the Baloch youth to stay away from the 'slogan of freedom' as it is only a hoax," Kalati, who was flanked by Pakistan Muslim League-Nawaz (PMLN) leader Changez Marri told media.
Kalati said that these Sardars (chieftains) were enjoying luxurious lives in the foreign countries at the expense of Pakistan's enemies.
"Their children are studying abroad while ours are mired in ignorance. I have finally realized that this 'war of separatism' was more about vested interests than political grievances," Kalati, who claimed to be the lieutenant of UBA chief Zamran Marri, said.
According to Kalati, Baloch leader Harbiyar Marri and Zamran are fighting for turf since the formation of UBA .
Based in Balochistan, a mountainous region of western Pakistan, BLA became publicly known during the summer of 2000, after it claimed credit for a series of bombing attacks on Pakistani authorities. The group is said to have an estimated strength of 500 militants.