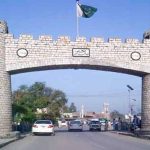 QUETTA: Balochistan government spokesperson Liaquat Shahwani said that the provincial govt has imposed a ban on all sorts of congregations in light of the increasing number of coronavirus cases.
The spokesperson, speaking to the media, said the number of coronavirus cases and deaths in the province have quadrupled — forcing the government to impose a ban on all kinds of gatherings.
While announcing the ban, the spokesperson said the government would take strict action against the people violating the ban.
"The movement of people on Balochistan's border is being restricted," he said.
The commissioners have been directed to make oxygen cylinders available in the divisions, the spokesperson said.
Pakistanis in Afghanistan and Iran can return home, but they will be tested for coronavirus upon arrival, he added.
Meanwhile, taking over the presser, DIG Quetta said the Youm-e-Ali processions would not be allowed to take place.
The National Command and Operation Centre (NCOC), two days ago, imposed a ban on Youm-e-Ali processions while it said majalis would be permitted under strict SOPs which are already in place for Ramadan.