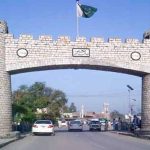 Chief of the banned Tehreek-e-Labbaik Pakistan (TLP) Muhammad Saad Rizvi has asked his followers to "immediately end all protests and road blockages", according to Special Assistant to Prime Minister Imran Khan on Political Communication Shahbaz Gill.
A post on Twitter, which accompanied the caption "Hafiz Muhammad Saad Rizvi's latest statement", showed the photo of a hand-written note, dated April 15 (Thursday), and written purportedly by the TLP chief, who was taken into police custody four days ago.
"I, Hafiz Saad Rizvi, son of (late) Khadim Hussain Rizvi, with complete clarity of mind, and without any force, appeal to all the central leadership and workers of the Tehreek-e-Labbaik that in the interest of the nation and the public good, please do not take any illegal steps.
"All protest rallies and road blockages must immediately be brought to an end. All workers must disperse peacefully and head on to their respective homes and fully cooperate with law enforcement agencies," reads the statement.
According to the statement, Rizvi also called upon supporters to end their sit-in outside Lahore's Masjid Rehmatul Lil Alameen.
TLP declared a proscribed organisation
Gill's post showing Rizvi's appeal to his followers comes on the heels of the Ministry of Interior issuing a notification that the TLP has been declared a proscribed organisation after it caused considerable destruction in the wake of its three-day long nationwide protest.