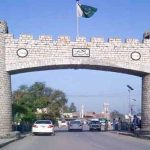 QUETTA: Bomb Disposal Squad (BDS) officials on Sunday defused an improvised explosive device (IED) planted at a vacant FC checkpost in Pod Kali area of Quetta.
Police say that the bomb was planted in a cement block by unidentified terrorists.
When the personnels pulled out the block, a small tub fell own with a wire attached to it.
Police blocked the road for traffic and informed the BDS.
Civil Defence's technical team arrived at the site and defused the bomb weighing 5kg and comprising of four circuits.