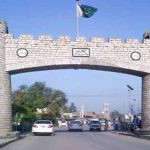 RAWALPINDI: Pakistan People's Party (PPP) Chairperson Bilawal Bhutto Zardari on Monday lambasted Prime Minister Imran Khan for "attacking media, democracy, and the Opposition's women".
Speaking outside the Adiala Jail — or Central Jail Rawalpindi — after meeting his father, former president and PPP co-chair Asif Ali Zardari, and his paternal aunt, Faryal Talpur, Bilawal confirmed his meeting and expressed gratitude to his party workers.
The PPP chair, taking aim at the incumbent premier, said: "People's Party has sent Ayub Khan, Yahya Khan, Zia [ul-Haq], and [General (retd) Pervez] Musharraf packing, so what is this puppet then?
"Niazi is a fascist who is attacking media and democracy and arresting the Opposition's women," Bilawal said, using the PM's last name instead of the popular Khan, and saying the current leadership was attacking its political opponents.
He vowed to expose and unmask the premier on every front and said the Pakistan Tehreek-e-Insaf (PTI) government was trying to pressurise him and his party, the PPP.
Bilawal further stressed that the government was not providing medical facilities to former president Zardari and "attempting to kill him", while the latter's sister, Faryal Talpur, was arrested from a hospital at midnight and shifted to Adiala Jail.
"Our religion teaches us to respect women. Instead, [the government] has now disrespected the sanctity of veil and four walls of the home," the PPP chair said.
"Nevertheless, we will not back off from our viewpoint," he said. "Niazi is tormenting the Pakistani people but we won't tolerate it. All the economic classes are being crushed and yet every promise that Niazi made turned out to be a lie."
The PPP chairperson noted that the prime minister had made a deal on Kashmir during his meeting with US President Donald Trump but "we won't let Niazi make deals on Kashmir".
He added that Indian Prime Minister Narendra Modi has "stolen occupied Kashmir from us".
Criticising Khan further, Bilawal said that there has never been such a failed government as this one. They have "attacked the people's pockets".