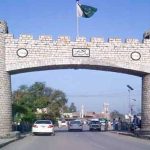 KARACHI: Pakistan People's Party Chairman Bilawal Bhutto Zardari has announced a rally on October 16 from Bilawal House to Karsaz to pay glowing tribute to the martyrs of Karsaz bomb attack.
In a video message on twitter, Bilawal said, "I will lead the Salam Shuhda rally on October 16 from Bilawal House to Karsaz at 10 am. I hope you (people) will join me."
PPP Chairman likened the struggle of his party for democracy and justice to the journey of Karbala. "Muharram reminds us of Karbala and the sacrifice of Imam Hussain (RA), Bibi Zainab (R.A) and his companions. Where ever there is injustice, there is Karbala," he said.
Bilawal said PPP had always struggled politically for democracy and against injustice. "As a result our leaders Zulfiqar Ali Bhutto, Shahnawaz Bhutto, Murtaza Bhutto, Mohtarma Benazir Bhutto and hundreds of leaders were martyred."
At least 180 people, mostly PPP workers were killed and dozens injured when former prime minister and his mother Benazir Bhutto's rally was rocked by a powerful bomb near Karsaz Karachi on October 18, 2007.