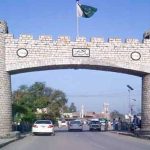 ISLAMABAD: Pakistan Peoples Party (PPP) Chairman Bilawal Bhutto Zardari on Monday asked the authorities concerned that if they do not agree with all the demands of the Pashtun Tahafuz Movement (PTM) but at the very least listen to them.
In a tweet, Bilawal hails the Pashtun Tahafuz Movement rally in Peshawar. "The #PashtunTahafuzMovement put on another impressive show yesterday," Bilawal wrote.
Bilawal further maintained that if the mainstream ignores young Pakistani voices they will be forced into the fringes.