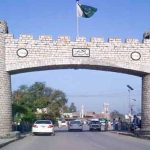 KARACHI: With general elections around the corner, Pakistan People's Party (PPP) Chairman Bilawal Bhutto Zardari on Monday has left for interior Sindh for electioneering.
According to media reports, Bilawal will visit Thatta, Sajawal, Badin and Hyderabad to meet the locals and to hear their problems.
Bilawal had visited Lyari area of Karachi on Sunday but met the residents enraged by water shortage, who pelted stones at his motorcade.
Some protesters also resorted to vandalism and broke window of the vehicles included in his motorcade.
To disperse the enraged protesters, police resorted to baton-charge to disperse the angry protesters.
Meanwhile, a First Information Report (FIR) has been lodged against the incident and as many as 13 people have been nominated in the report.
Sections of terrorism have also been included in the FIR.