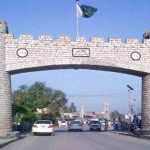 ISLAMABAD: Chairman Pakistan People's Party Bilawal Bhutto Zardari strongly condemned missile attack on the residence of PPP leader Akhunzada Chattan in Bajaur Agency last night.
In a statement issued here, the PPP Chairman said that lashes, bullets and bombs have failed to frighten PPP supporters in the past adding that missiles too can't scare them.
Bilawal Bhutto Zardari said, Akhunzada Chattan is a brave person and he would continue struggle for the people of FATA and their rights vigorously.