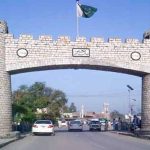 SUKKUR: Chairman of the Pakistan Peoples Party (PPP) Bilawal Bhutto Zardari has said that video scandal of the accountability court judge Arshad Malik should be investigated.
To a question during a press conference here on Friday, the PPP chairman said that the judge's video was big question mark, therefore there should fair and transparent investigation into the case. He asked that why the same judge will hear cases against Nawaz Sharif and Asif Ali Zardari. He said that the country's institutions should be independent. He said that he would continue struggle for the independence of the country's institutions. He said that the decisions should be without any pressure.
To a question about forced conversion, Bilawal said that the PPP always should with the non-Muslim, adding that the Sindh government has taken steps for curbing forced conversion. He said that the police was also taking action over the issue. He added that being chairman of the human rights committee, he had summoned the meeting of the committee on July 4 for taking up the Supreme Court's decision about minority rights. However, he added, that meeting was cancelled by the speaker.
He said that the central government was trying to usurp the rights of the provinces including Sindh and Khyber Pakhtunkhwa. He said that the PPP would protest against the puppet government over increasing inflation and anti-people budget.
He said that the federal government wanted to convert the bye-election in Ghotki into selection. He said that the country's institution was involved in threats to PPP candidate and his disqualification from contesting 2018 elections. He said that the court was not announcing decision in petition against PPP candidate for the bye-elections. He said that the court will announce the decision on July 16, one day before the election. However, he added that the PPP was ready to fight against the selection.