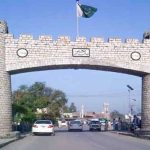 MITHI: Chairman PPP Bilawal Bhutto Zardari Thursday asked the prime minister to remember the promises he made with the people of Thar.
He was addressing a ceremony to celebrate Dewali with Hindu community here. He lashed out at opponents in his address saying that the Prime Minister came to Sindh to make promises but then left behind the 'Ravana' of Tharparkar.
He said that those coming to celebrate Diwali in Sindh were welcome, but they won't get any votes, adding that Sindh vote would be only for Benazir, Theer.
In an apparent jab at PML-N MNA from Thar, Arbab Ghulam Rahim, Bilawal said Nawaz Sharif's representative from Thar is actually a 'Raavan', a devilish character from Hindu mythology.
"At one end is Nawaz Sharif and his Raavan, and on the other hand is Thar. And the people of Thar want Nawaz to call back his Raavan," said Bilawal.
The PPP chairman promised the crowd that in the coming years he would continue to celebrate their festivals in Sindh and other parts of the country.
Sindh Information Minister Nisar Ahmed Khuhro, MPA Dr Mehesh Malalani, MNA Faqir Sher Mohammad and other PPP leaders also spoke on the occasion.
Earlier, Bilawal also chaired a meeting with local PPP leaders and candidates at Malalni House in Mithi.
The PPP chairman also cut the Diwali cake and addressed the participants of the ceremony."I celebrated last diwali in Larkana, today I celebrate with you and would continue celebrating every year," he told the participants.
Lamenting Indian Prime Minister Narendra Modi's policies, Bilawal said Modi government was discriminating between Eid and Diwali, adding that Modi's silence over minorities' oppression was a slap on the face of India's proclaimed secularism.
Bilawal celebrated Diwali in Mithi and conveyed the message of unity to the country's Hindu community.