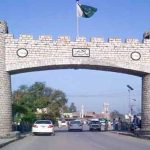 KHAIRPUR: Pakistan People's Party (PPP) Chairman Bilawal Bhutto Tuesday threatened to go for a long march if efforts were made to revoke the 18th Amendment.
Talking to newsmen after inaugurating a medical college in Gambat, the PPP chairman said that his party was ready to safeguard the 18th Amendment of the Constitution and if needed, a long march will be held to let it remain intact.
Bilawal said that the party will appeal against the SC decision regarding hospitals. "Will not let them snatch away the hospitals in Sindh", he said, adding that some powers wanted to revoked the 18th Amendment. However, he added, the PPP would not allow anyone to snatch the rights of the people.
Bilawal Bhutto said that in New Pakistan, he challenges Prime Minister Imran Khan to build a medical college similar to the one inaugurated today.
"In the last budget, people such as PM Imran's sister received relief but none was given to the poor," said the PPP chairman.
Bilawal said that the way PM Imran is running the parliament is counter-productive for the country.
Bilawal said that Zulfikar Ali Bhutto had dismissed Imran's father on the basis of corruption. "Bhutto was the first elected prime minister and he was the one who introduced the concept of one individual, one vote," said the PPP chairman.
He said that the country and the province of Sindh is facing multiple challenges but now it will be possible for the poor to get their treatment in Sindh.
He said that the parliamentary form of government was the only suitable system for Pakistan. He rejected presidential form of government, saying that more powers have to be transferred to provinces if American like presidential system was introduced in Pakistan. He said that US has states not provinces, which have their own flags and more powers.