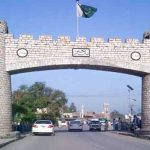 ISLAMABAD: The deadline for four-point charter of demands presented by Pakistan Peoples Party (PPP) will end today and that is why, its chairperson Bilawal Bhutto Zardari has summoned an important party's meeting of five members in Nowdero tomorrow.
It is pertinent to mention that the four-point charter of demands were presented by PPP chairperson Bilawal Bhutto Zardari in front of the government during Salam Shuhda rally organized by Pakistan Peoples Party (PPP) in the memory of Karsaz incident martyrs.
The four-point charter of demands included the appointment of foreign minister, approval of oppositions' bill on Panama Leaks, setting up of parliamentary national security committee and approval of Asif Zardari's resolution on CPEC.
It has been reported that the points of long-march or a possible protest against the government will be under consideration during the meeting in Nowdero.
The party has also assigned the task of contacting Tahir-ul-Qadri to former prime minister Yousaf Raza Gillani so as to make PAT leader part of the protest.
On the other hand, Qamar Zaman Kiara and Sherry Rahman have been given the responsibility of holding talks with PTI.
In addition, Sardar Fateh Muhammad will be taking the opposition parties into confidence in Balochistan.