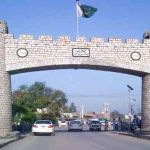 QUETTA: A senior commander of Baloch Liberation Army (BLA) Balakh Sher Badini has surrendered. He surrendered to the Frontier Core of Balochistan.
Addressing a press conference here Monday along with Balochistan Home Minister Sarfraz Bugti, Balakh Sher Badeni said he had been BLA's commander in Noshki. He said he joined the BLA on the asking of enemy and was sent abroad where he headed the social media wing.
He said he has realized his mistake and returned home to join in the efforts for peace in Balochistan and would no more be a toll in the hands India. He appealed the misguided Bloch brothers to join the national mainstream instead of playing in the hands of India.
He also asked the Baloch children to acquire education for a prosperous future and development of Pakistan.
Home Minister Sarfraz Bugti welcomed the BLA commander and said India was following an agenda against Balochistan and Pakistan.
A number of Baloch insurgents and commanders have surrendered in the last few months. The first major surrender was that of 400 militants on last year's Independence Day. In the next six months a total of 625 militants surrendered in front of Balochistan provincial government and decided to be a part of the political system to fight for their rights.
A major development in context of Baloch insurgency was when Indian Intelligence Agency RAW's spy Kulbhushan Yadav was arrested on March 3, 2016 from the Pak-Iran border when he was trying to enter Pakistan. During the investigation and in his statement Yadav accepted that his mission was to fuel up the Baloch insurgency by providing tactical and operational assistance to the militants of BLA and BRA.
The arrest of Yadav is considered to be one of the biggest developments in fighting against the Baloch insurgency for Pakistan. The Indian spy further revealed his network in Pakistan, which helped the security agencies to break this network down.