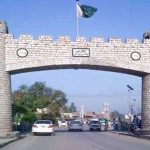 ISLAMABAD: The PTI collation partner BNP-M Tuesday attended a meeting of the joint opposition parties at the opposition leader's chamber in parliament House.
According to reports, Aghan Hasan Baloch of the BNP-M, said that the PTI government has failed to fulfill its promises with his party. He said that the BNP-M parliamentarians attended the meeting of the opposition parties. However, he added, his party has not yet decided to part ways with the PTI.
He said that the government has not work on its six demands. He said that the PTI had not taken the BNP-M into confidence over recent senate by-elections.