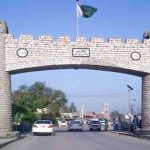 PESHAWAR: The body of a Pakistani diplomatic staffer in Afghanistan, Rana Nayyar, was handed over to the authorities at the Torkham border crossing Tuesday.
Nayyar was shot dead outside his residence in Jalalabad, Afghanistan by unidentified persons a day earlier.
The body arrived in Peshawar in the morning and was sent to Islamabad for final rites of the deceased.
The Pakistani Foreign Office (FO) condemned the killing of the staffer in the eastern city of the war-ravaged country and demanded increased security from Afghan authorities for its diplomatic staff and missions in the country.
Nangarhar governor spokesperson Attaullah Khogyani confirmed the deadly attack.
"Police have launched an investigation into the incident. No arrests have been made so far," Khogyani told foreign news agency.
Pakistan's ambassador to Afghanistan Zahid Nasrullah Khan said he had "absolutely no idea" why Nayyar, a father of five, was targetted.
Nayyar had been working as an assistant at the Pakistan Consulate in Jalalabad, said FO spokesperson Dr Mohammad Faisal, condemning the "gruesome murder."
The Foreign Ministry statement added that Rana had finished "his three-year tenure in Jalalabad and was due to return to Headquarters".
Foreign Minister Khawaja Asif also condemned the attack and asked the Afghan authorities to provide security to Pakistani diplomats in the country.
Pakistan's foreign secretary also summoned Afghan charge d'affaires to the FO on Monday and lodged a strong protest with him over the killing, Faisal said.
The Afghan charge d'affaires was also handed a protest note, he added.
The incident comes a few months after two Pakistani diplomats working at the same consulate in Jalalabad were kidnapped and later freed.