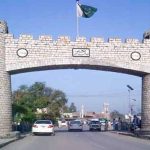 ISLAMABAD: Brigadier (retd) Asad Munir, former Member State Capital Development Authority (CDA), has committed suicide , police said on Friday.
According to police, the former officer of an intelligence agency was found hanging from the ceiling fan at his flat.
Citing family sources said Munir was deeply upset after reports that the National Accountability Bureau (NAB) is filing a reference against him over restoration of a plot in F-11 area of the federal capital.
The family has requested the police not to conduct postmortem examination of the body.