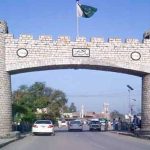 ISLAMABAD: The by-election on three seats – two in Karachi and one in Peshawar – began at 8am on Sunday (October 21). It will continue till 5pm.
In Peshawar's PK-78, KP Governor Shah Farman vacated the seat.
In PK-71 Peshawar, PTI's Zulqarnain Khan will be facing off against ANP's Salahuddin, who has the support of the joint opposition.
There are 132,426 registered voters in the constituency.
In Karachi, votes are being cast to elect representatives from PS-111 and NA-247 while in Peshawar voters are electing their PK-71 representative.
The PS-111 seat was vacated by Sindh Governor Imran Ismail while the NA-247 one was left by President Arif Alvi.
NA-247 and PS-111 greatly overlap in terms of constituency. NA-247 comprises areas under the Clifton Cantonment Board, Saddar, Burne's Road and the old city areas. There are 240 polling stations set up of which 191 have been designated very sensitive while 40 are sensitive.
There are 546,451 registered voters in the constituency. The main candidates are PTI's Aftab Siddiqui, MQM's Sadiq Iftikhar, PPP's Qaiser Nizamani and PSP's Arshad Vohra.
In PS-111 there are 80 polling stations and 178,965 registered voters. It comprises areas under the Clifton Cantonment Board and Civil Lines.
The main candidates in this constituency are PTI's Shehzad Qureshi, MQM's Jahanzeb Mughal, PPP's Fayaz Peerzada and the PSP's Yasiruddin.