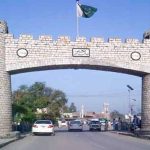 PESHAWAR: The voting time for second round of by-elections on National Assembly seat NA-247, Khyber Pakhtunkhwa Assembly seat PK-71, Sindh Assembly seat PS-111 and Azad Kashmir constituencies LA 18 Poonch 2 ended at 5pm on Sunday.
According to details, 51 polling stations in Peshawar were declared sensitive while 35 were highly sensitive.
For NA-247 seat, total 12 candidates are in the run, however, prominent candidates include Pakistan Tehree-e-Insaf's (PTI) Aftab Hussain Siddiqui, Pakistan Peoples Party's (PPP) Qaiser Nizamani, Pak Sarzameen Party's (PSP) Arshad Vohra and Sadiq Iftikhar of the Muttahida Qaumi Movement-Pakistan (MQM-P). This seat was vacated by President Dr Arif Alvi.
Twelve candidates are contesting for PS-111, PTI's Shehzad Qureshi, MQM-P's Jehanzeb Mughal, PML-N's Mohammad Zahid Hussain and activist Muhammad Jibran Nasir are prominent candidates.
As per details of the Election Commission of Pakistan (ECP), there are 546,451 registered voters in NA-247 and 178,965 registered voters in PS-111. Moreover, 240 polling stations were set up for NA-247 and 80 polling stations for PS-111.
PTI s Zulfiqar Khan, Awami National Party candidate Salahuddin, and independent candidates Dildar Khan, Abdul Karim Khan, and Fazale Haq Kohi Damani are contesting by-election for PK-71 that fell vacant after Shah Farman was appointed as Governor Khyber Pakhtunkhwa.