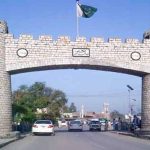 Pakistan Muslim League-Nawaz senior leader Captain retired Safdar has been indicted in a treason case on Saturday.
As per details, Captain retired Safdar, who is the husband of Pakistan Muslim League-Nawaz (PML-N) Vice President Maryam Nawaz, appeared before the court of judicial magistrate Gujranwala, Muhammad Azam Khan.
The court after indicting the Captain retired Safdar and PMLN MPA Imran Khalid Butt, summoned the witnesses in the case on June 20.
The court also summoned both the accused in the case of interference in official duty on June 29.
The PML-N leaders were booked on October 2, 2020, at Satellite police station Gujranwala.
The court also exempted Awan and another suspect in the case, Minister Khurram Dastgir Khan, from the appearance on the next date of the hearing, while Butt and a former mayor of Gujranwala were asked to appear.
The Gujranwala police had booked Awan in a treason case on October 5, 2020, for using hate language against the state institutions in his address to the PML-N's consultative meeting at the house of Butt on October 2. Butt was also booked in the case.
Last year, Peshawar High Court (PHC) dismissed a treason case against Captain (retd) Safdar, booked in February 2021 on the charges of sedition and inciting armed forces to mutiny after he made the alleged remarks during a presser held in the same month.