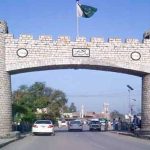 LAHORE: A sessions court in Lahore on Wednesday approved Captain (retd) Muhammad Safdar's bail application in a hate speech case.
The court was hearing Pakistan Mulsim League-Nawaz (PML-N) leader's plea seeking a bail in the hate speech case filed against him. The court also asked Safdar to submit a surety bond of Rs200,000.
Lahore police had arrested former prime minister Nawaz Sharif's son-in-law near the Ravi Toll plaza and registered a case against him in Lahore's Islampura police station last week.
The case was registered under section 16 of the MPO and additional charges were also added after the he was presented before the court.