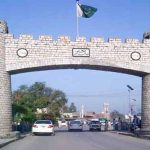 ISLAMABAD: Caretaker government on Tuesday decided to keep prices of petroleum products unchanged for the month on August.
A notification issued by the ministry of finance stated that the caretaker government does not support the recommendation of Oil and Gas Regulatory Authority (OGRA) and the matter to increase prices of petroleum products will be decided by new government.
OGRA had forwarded a summary to the Finance Ministry recommending hike in prices of petrol and high speed diesel by Rs 2.45 and Rs 2.70 per litre respectively for approval. The price of price of kerosene oil had been recommended to be increased by Rs 3.25 per litre and price of light diesel by Rs 3.40 per litre.