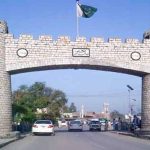 ISLAMABAD: The meeting of the Central Ruet-e-Hilal Committee for sighting the crescent of Ramazan 1439 AH will be held on Wednesday, May 16 at Pakistan Meteorological Department in Karachi.
Some other members of the Ruet-e-Hilal Committee will hold the meetings at their respective provincial and district Ruet-e-Hilal Committees.
The Central Ruet-e-Hilal Committee led by its chairman Mufti Munibur Rehman will gather the information from all across Pakistan and will announce the decision about the sighting of the moon or otherwise.