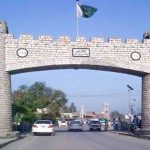 ISLAMABAD: The Chairman Senate on Friday forwarded a bill extending the jurisdiction of the Supreme Court and Peshawar High Court to the Federally Administered Tribal Areas (FATA) to President Mamnoon Hussain for approval.
The Senate on Friday unanimously passed a bill extending the jurisdiction of the SC and PHC to FATA.
The Supreme Court and High Court (Extension Jurisdiction to Federally Administered Tribal Areas) Bill, 2018, was moved by Law Minister Mahmood Bashir Virk.
Taking the floor, Senator Virk said the bill was drafted after consensus from all the leaders and other stakeholders.
Senators from the Jamiat Ulema-e Islam-Fazl (JUI-F) and Pashtunkhwa Milli Awami Party (PkMAP) staged a walkout in protest against the tabling of the bill.
The bill was approved by the National Assembly earlier.
During the session, Jamaat-e-Islam Ameer Sirajul Haq said that the people of FATA were given the right to vote in 2009.
The FATA reforms, which include its merger with Khyber Pakhtunkhwa as well as the extension of court jurisdiction, are a part of one of the points listed in the National Action Plan (NAP) countering terrorism in the country.