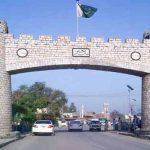 LAHORE: Disgruntled Pakistan Muslim League Nawaz (PML-N) leader Chaudhry Abdul Ghafoor on Sunday parted ways with the party saying he cannot support a leader who rubs shoulders with the 'butcher of Gujarat Narendar Modi'.
"He who keeps Modi closer is a traitor to the Muslim Ummah," he said while addressing a news conference in Lahore. "We will stop the friends of Modi," he added.
The former provincial minister for prisons took a jibe at the Sharif brothers stating that he tried to stop them from making bad decisions but failed, Express News reported.
"A fifth generation war has been waged against the institutions of Pakistan that sacrifice their lives protecting us when we are asleep," he remarked. "The people wont let anyone weaken state institutions."
Ghafoor further went on to allege that every PML-N ticket was sold and even the governorship had a price.
"I advised Nawaz Sharif to not give tickets to land mafia," he said.
The former PML-N leader said he will visit constituencies of other party leaders and urge people not to vote for 'these corrupt politicians'.
"I wanted to leave the party after the model town incident and when they hanged Mumtaz Qadri," he disclosed before concluding that he has not submitted nomination papers from any constituency but will continue to work for the 'interests of Pakistan'.