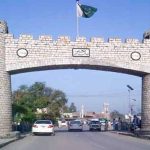 LAHORE: Chaudhry Wajahat Hussain, brother of Chaudhry Shujaat Hussain, has returned to the Pakistan Muslim League (Q), saying that he had never formally joined the PTI.
Addressing a press conference in Lahore, Chaudhry Wajahat Hussain stated that at this time, the whole of Pakistan is condemning attacks on military installations. "Our family has never had such an attitude. I have never joined any other party," he said, adding that time has proven that some decisions of the family were not correct. "Some members of the family, who are in other parties, will be welcomed back.
He said that the cases against him were fabricated and have no connection to reality. "My cases will be heard on merit. Everything will be step by step, and in the coming days, the family will be in one place."
Chaudhry Wajahat Hussain said that he has no contact with Monis Elahi, and he has no knowledge of the cases of Pervez Elahi and Monis.
Chaudhry Shafay Hussain said that Monis Elahi had said six months ago that they would be meeting again and again but politics is personal. The Prime Minister told Chaudhry Shujaat Hussain that he is deeply saddened by the events of May 9.
Earlier, Chaudhry Wajahat Hussain met Chaudhry Shujaat Hussain.